>
UPDATES… ADVOCACY… CALL TO ACTION…
JOIN US…Volunteer for the groups below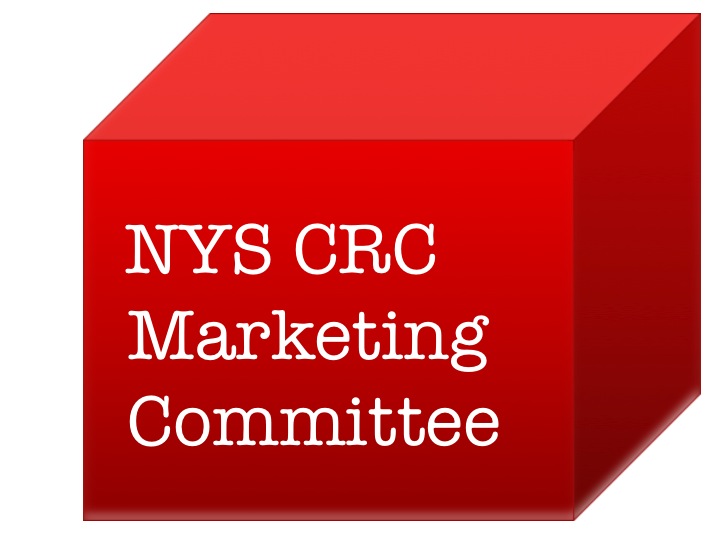 http://www.idealist.org/view/volop/kkfGh4XSpK5P/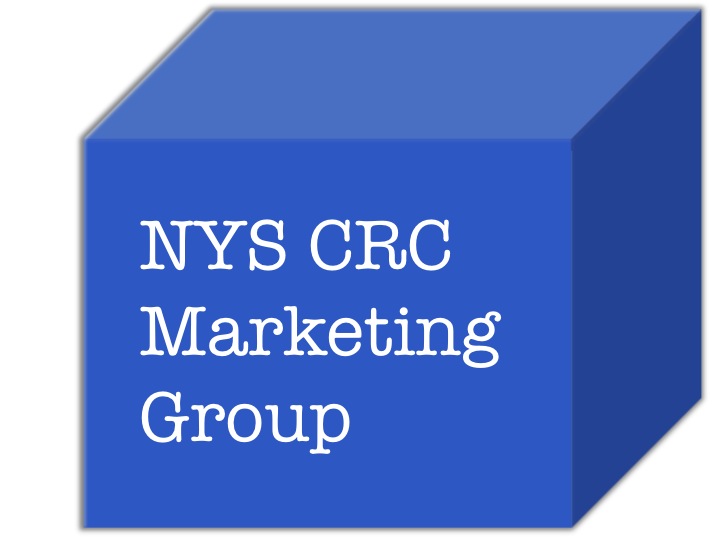 http://www.meetup.com/New-York-State-CRC-Marketing-Group/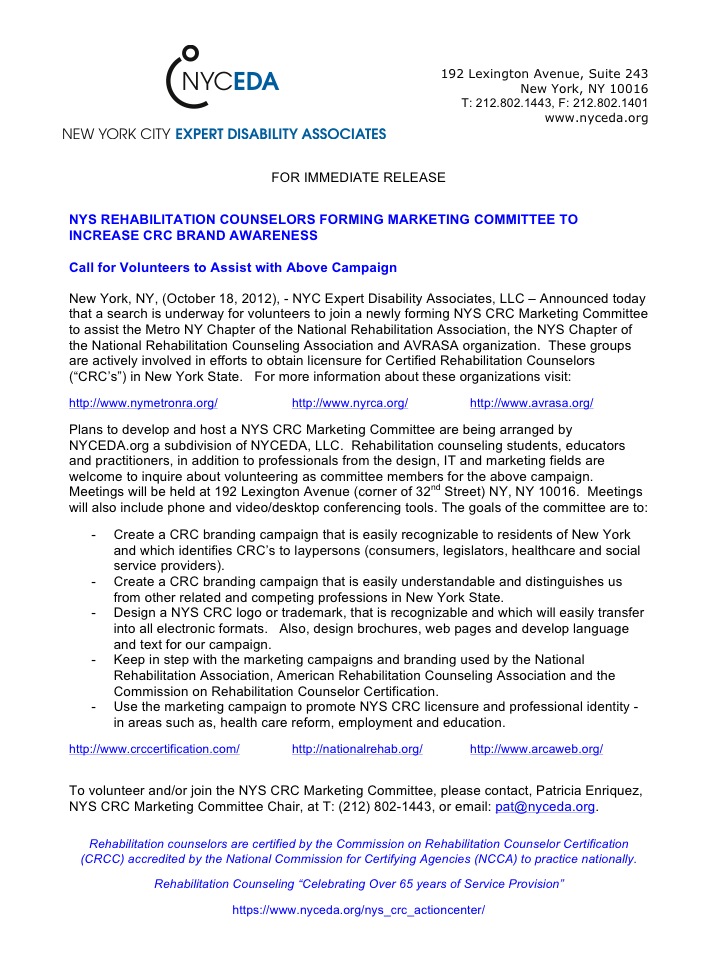 LATEST UPDATE FROM AVRASA.ORG…Fall 2012
LICENSURE EFFORTS – 2012/2013
*** NYS Licensure for Rehabilitation Counselors Passes in the Senate, Delayed in the Assembly ***
LICENSURE BILL UPDATE (8/22/12):  The licenure bill did pass in the Senate but was not voted on in the Assembly.  The session has ended making further action impossible at this time.
Although a Rule 99 was involved calling the question.  Assemblyperson Glick requested that the Assembly Higher Education Committee delay the bill instead of voting it up or down.  Assemblyperson Micah Z. Kellner, the bill sponsor, and Sam Roberst  contacted Glick to ask for support for the bill but to no avail.
During the next session, the Assembly Higher Education Committee members need to be encouaged to vote positive on the bill but NOT to delay it.  
BULLETIN:  Rehabilitation Counselor Licensure in NY
There is an active bill in Albany in both the assembly and senate that seeks to create licensure for Rehabilitation Counselors in New York.  There is a lot of activity and interest in supporting the bill thus including rehabilitation counselors on the list of 48 other professionals credential through the NY State Office of the Professions.
Rehabilitation Counselors are the ONLY professional counselors educated and trained specifically to serve the needs of individuals with disabilities.  Licensure of Rehabilitation Counselors would ensure that people with disabilities and their families are PROTECTED from the problems that result from the fact that, without licensure, any untrained individual may use the title of "rehabilitation counselor".
Therefore, Rehabilitation counselor licensure is important to protect people with disabilities!!!
The Americans with Disabilities Act (ADA) emphasizes the importance of providing individuals with disabilities with accessible and appropriate rehabilitation services.  Several key sections of the ADA relate to improving opportunities for productive employment for people with disabilities.  These opportunities should NEVER be compromised or lost through the use of rehabilitation personnel with inadequate or inappropriate qualifications and/or experience.
AVRASA in conjunction with NYRCA (www.nyrca.org) and NRA (www.nymetronra.org) advocates for and supports licensure of rehabilitation counselors so we may continue to educate, recruit and retain qualified rehabilitation counselors in New York State.
The purpose of the rehabilitation counselor licensure bill is to protect people with disabilities-This is Advocacy in Action!!! The current bill numbers – A967B (2012) for Assembly and S6092A (2012) for Senate are amended and recommitted to the higher education committee.
To view this and other bills go to the following web pages and insert bill info:
_____________________________________________________
DATE OF BELOW ACTION:  SPRING 2012
1) LETTER WRITING CAMPAIGNS conducted by counselors.
COME BACK AND VISIT THE REST OF THE SITE BELOW WHEN
YOU 
ARE DONE WITH YOUR ACTION ABOVE… 
.

NYS Licensure Committee Chair in Memoriam: 
Patricia Livingston, PhD (1924-2012), NYU Professor Emeritus 
Gerry From, PhD, Legislative Co-Chair, NYS Rehab Counseling Association, at [email protected]
NYS Senate Bill: S6092-B  DEFRANCISCO   Same as A 967-C  Kellner (MS)…
NYS Assembly Bill: A967-C Kellner (MS) Same as S 6092-B  DEFRANCISCO…
NY SENATE BILL SPONSORS AND SUPPORTERS…
NYS ASSEMBLY BILL SPONSOR(S) AND SUPPORTERS…
OUR BILL COMMITTEE (NYS Assembly Higher Education Committee Emails)…
SENATE MEMBER(S) OPPOSING OUR BILL…
ASSEMBLY MEMBER(S) OPPOSING OUR BILL…
NUMBER OF CURRENT BILL VOTES AND STATUS…
LETTER TEMPLATES FOR LETTER WRITING CAMPAIGN…
COMING SOON: LIST OF CRC's by NYS SENATE DISTRICT!
COMING SOON: LIST OF CRC's by NYS ASSEMBLY DISTRICT!

Click here for upcoming CRC Licensure Advocacy Events…
Licensure Action Contacts:
Michele Buoninfante, MA CRC, President AVRASA, AVRASA.org Board
Eleanor H. Abel, RPA, MS, CRC, Member-NRCA, NYRCA.org Board
Groups Working on CRC Licensure in NYS by Region: 
Central New York Empire: Upstate NY, Westchester/Rockland County  NRA:
http://www.nyrca.org/
New York Metropolitan Chapter, Inc. aka NY NRA Metro Chapter (NYC): 
http://www.nymetronra.org/
Advocates for the Vocational Rehabilitation of Alcoholics and Substance Abusers (AVRASA):
http://www.avrasa.org/
Universities Participating in CRC Licensure for NYS:
New York University: Paula Lee, CRC, Associate Director 
Hunter College: Arnold Wolf, PhD, CRC
Hofstra University: Andrea Perkins Nerlich, Ph.D., CRC, CVE
 STUDENTS CONTACT US!
Professional Associations Advocating for NYS CRC Licensure

National Rehabilitation Counseling Association (NRCA) http://www.nrca-net.org/
Contact the New York State Chapter: http://www.nyrca.org/

http://www.nationalrehab.org/
Contact the New York City Chapter: http://www.nymetronra.org/

       DIVISION OF 

http://www.counseling.org/
 Contact the American Rehabilitation Counseling Association division of ACA: http://www.arcaweb.org/
Contact the NY Chapter: http://www.rehabpro.org/chapters/new-york

  http://www.ncre.org/

OSEP | NIDRR (National Institute on Disability and Rehabilitation Research)
http://rsa.ed.gov/ and http://www2.ed.gov/about/offices/list/osers/rsa/index.html

  http://www.crccertification.com/
EXCELLENT CRC LICENSURE INFO:
http://www.crccertification.com/pages/advocacy___legislation/224.php
http://www.crccertification.com/pages/resources___links/11.php
Government Employed CRC's (Federal, State, City) Interested in CRC Licensure by Department: ACCES-VR, VA, DOL, DOE, ED, 
NYS Government Board Overseeing Licensure
NYS Education Department
State Board for Mental Health Practitioners
89 Washington Avenue
Albany, NY 12234-1000
Phone:  518-474-3817 x450
Fax:      518-486-2981
Email:   [email protected]
Web:    http://www.op.nysed.gov/prof/mhp/mhclic.htm
New York State Licensure Requirements for Counselors:
CRC Exemption Deadlines Looming…
September 2011
Budget legislation passed in 2010, extended the exemption of CRCs from the statute requiring that only licensed staff can work in New York State Office of Alcoholism and Substance Abuse Services (OASAS) certified programs. As a result, thousands of individuals in OASAS certified programs continue to benefit from the qualified services of CRCs as they make career and employment decisions to help maintain sobriety. CRCC supported preserving the exemption and continues to work with the Association of Vocational Rehabilitation in Alcoholism and Substance Abuse (AVRASA) to get a permanent exemption as well as in the broader effort of advocating for recognition of the CRCE in general counseling licensure.
Federal Licensure Requirements for Counselors:
CRC Exemption Deadlines Looming…
Veterans Affairs 2010
The Department of Veterans Affairs (VA) has issued qualification standards formally recognizing certain licensed professional counselors as mental health specialists within the Veterans Health Administration. The standards are now here or go to:  http://www1.va.gov/vapubs/viewPublication.asp?Pub_ID=507&FType=2.
Presently, the regulations require licensed professional counselors to have a master's degree in mental health counseling or a related field from a program accredited by the Council on Accreditation of Counseling and Related Educational Programs (CACREP). According to the release, more…
[NYCEDA INFOGRAPHIC] 
NEW YORK,  IS ONE OF 6 STATES, IN THE NATION WITHOUT A LICENSURE OPTION FOR CRC's TO PRACTICE WITHIN THEIR OWN PROFESSION.*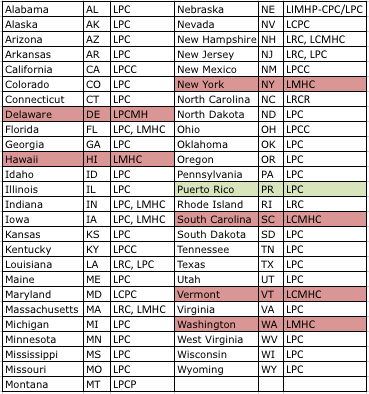 *If you see any errors in the above table, please email: [email protected]
LETTER WRITING CAMPAIGNS conducted by consumers we serve, friends and family:
Click on the map below to find NYS zip codes by town/county/region.
This is helpful if you have consumers residing in the district assigned to our targeted assembly persons (specifically those on the NYS education Committee voting on CRC Licensure) and to our senators in Albany supporting our licensure bills.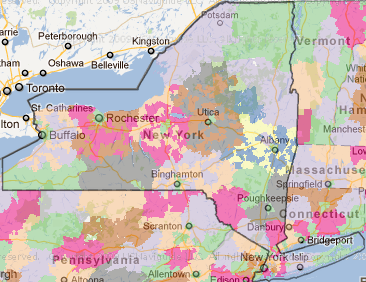 BLOG ABOUT THIS/COMMENT ABOUT THIS – WITH OTHER CRC's WITH OUR DISQUS TOOL here…