TRAINING OPPORTUNITIES PROVIDED BY NYCEDA
CEU's for Certified Professionals 20% Off Using NYCEDA Affiliate Link

March 12, 2012
Dear Certified Professionals and Students:
We are happy to include an  AAACEUS.COM affiliate link  on our website, which offers  a 20% DISCOUNT – as one of your continuing education options.
Our http://www.AAACEUs.com/nyceda portal offers a 20% discount over regular registration at AAACEUs.com.  Below is information about our custom link and instructions for students and certified professionals seeking CEU's.  Please call me at telephone number 212.802.1443, if you have any questions.
Our custom affiliate link opens up to a registration page.   Students who have never taken classes with AAACEUs.com – will create an online account which will have the 20% discount programmed into the webpage.  Anyone can call AAACEU for help with registration at 1-866-850-5999.  Instructions for students who already have an account with AAACEUs.com and would like to join through NYCEDA's affiliate link to obtain a 20% discount can do so – using the easy to follow information below.
http://www.AAACEUs.com/nyceda (20% off all classes if you use this affiliate link – works for new and current AAACEUs.com registrants). 
This is also a helpful reminder to students that need to pursue their CEUs for re-certification.
Best,
Patricia Enriquez, CRC
NYCEDA is pleased to announce a partnership with AAACEUS.com to offer over 1600 hours of pre-approved continuing ed courses for certified rehab counselors, case managers, social workers, rehab managers and life care planners at a 20% Discount.  Over 600 hours of pre-approved CRC classes. The courses now being offered on the website are pre-approved and appropriate for Nurses, ACM, CCM, CRC, CDMS, CRRN, CMCN, COHN, CPUR, CPUM, CPHM, Social Workers (ASWB) and more.You can take online courses, and Home Study courses (with textbook). All course types can be taken easily and conveniently at anytime. Registration and testing are all done online and Certificates of Completion are immediately available upon passing the course exam and completing the Evaluation.  HOW TO JOIN USING THE AFFILIATE 20% DISCOUNT:
FOR NEW STUDENTS to access AAACEUs.com with 20% Discount:    
Click on the NYCEDA  custom link http://www.AAACEUs.com/nyceda GO TO:  Not Registered Yet? Register Here
Register / Log on (once Registered and logged on, you will be taken to YOUR ACCOUNT page).
View Course Catalog (click on SEARCH FOR COURSES button in top right corner)
Find desired course (click on COURSE OVERVIEW for more details about course)
Check course pre-approvals (If looking for Pre-Approved courses only, verify selected course is pre-approved for desired certification)
Click on TAKE COURSE NOW
Pay with Credit Card (Your DISCOUNT IS APPLIED IMMEDIATELY)
Before starting to read course material, print off test (from YOUR ACCOUNT page)
Read course material and complete test as open book exam.
Call 1-866-850-5999 if you have ANY questions.
*IF YOU HAVE ALREADY TAKEN CLASSES with www.AAACEUs.com and have a current account:
Please use your  current user ID and password  to log in on the custom  link: http://www.AAACEUs.com/NYCEDA 
1)      The link will take you to a login page –  GO TO:            
Already a Registered User?
User ID:
Password:
2)   Once you login the webpage will prompt you to join the NYCEDA Affiliate.
3)   Hit the "Please Add Me" button and your account will now reflect the 20% discount.                                
SPECIAL NOTES: 
Course material can be read as many times as desired.  Course material can be read on the computer OR printed off and read offline.Tests can be re-taken as many times as necessary. If you don't pass the test, the questions answered incorrectly are displayed on the screen – to re-take test, just use your BACK BUTTON to return to test, change the answers to those questions and re-submit test for grading. Repeat process until you pass.
Questions? Call AAACEUS.com Customer Support at: 1-866-850-5999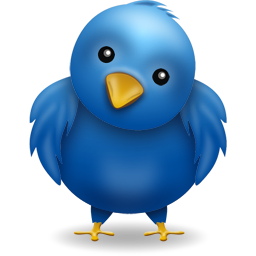 Social Media Training Seminar for Counselors and Counseling Students
Tuesday, November 8, 2011
Seating Significantly Expanded!
NOTE: REGISTRATION BY CREDIT CARD IS OPEN UP UNTIL DAY OF SEMINAR.  IF PAYING BY CHECK (AT DOOR), PLEASE RSVP TO email: [email protected]
Join us for our Social Media Training Seminar for Counselors and Counseling Students on Tuesday, November 8, 2011.
Earn 2 Pre-approved Continuing Education Hours.
Refreshments will be served.
12:30-1:00:  Check In, Networking Reception & Refreshments, Faculty Lounge & Conference Room.
1:00-1:45:  Social Networking and Job Placement: A Counselor's Guide. (Patricia  Enriquez, CRC, NYCEDA).
1:45-2:30:  How Employers Use Social Media to Fill Jobs. (Shara Alter, Branch Manager Wall Street, Manpower and Meredith Croft, Staffing Specialist NYC, Manpower, Inc.).
2:30-3:00: Question & Answer Session (Sandy Starr, MS, Mount Sinai Medical Center, Patricia Enriquez, Shara Alter and Meredith Croft).
For counselors working with students with disabilities. 
For counselors working with job seeking clients.
For counselors who would like to create their own social media accounts in LinkedIn, Facebook or Twitter – safely and securely.
For counselorsundergoing their own job search.
1) Teach counselors how to use social media (LinkedIn, Facebook, Twitter) in their daily work with clients aimed at career and job placement  activities.
2) Teach counselors how to use social media in order to network with other providers, agencies and employers.
3) Demonstrate safe and secure social media practices for counselors and clients.
4) Recruiters will explain how social media is used to fill job orders and screen job candidates.    
5) Employment trends and statistics regarding the impact of social media in hiring practices.
Location: Baruch College William and Anita Newman Conference Center, 151 East 25th Street, NY, NY 10010. (Between Lexington and 3rd Avenues), 7th Floor, Room H750.
R.S.V.P. by email to: [email protected] or call 212-802-1443.
Workshop fee: $40.00 made payable to NYCEDA.
Mail check to:
NYCEDA, 192 Lexington Avenue, Suite 243, NY, NY 10016.
To pay by credit card go to: NYCEDA Store 
or call 212-802-1443.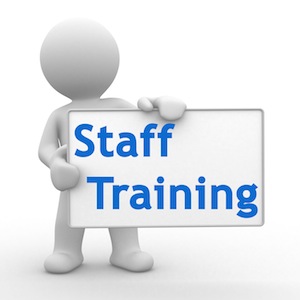 Counselor one to one social media training:  $100 per hour.
Counselor clinical supervision, report writing and case management training:  $100 per hour.
College Disability Coordinators: Social Media and Safe Practices Training.  $200 per hour.  Group or individual training.
College Disability Coordinators: ADA accommodations, disability disclosure and diversity training.  $200 per hour.  Group or individual training.
iCareerLive Meetings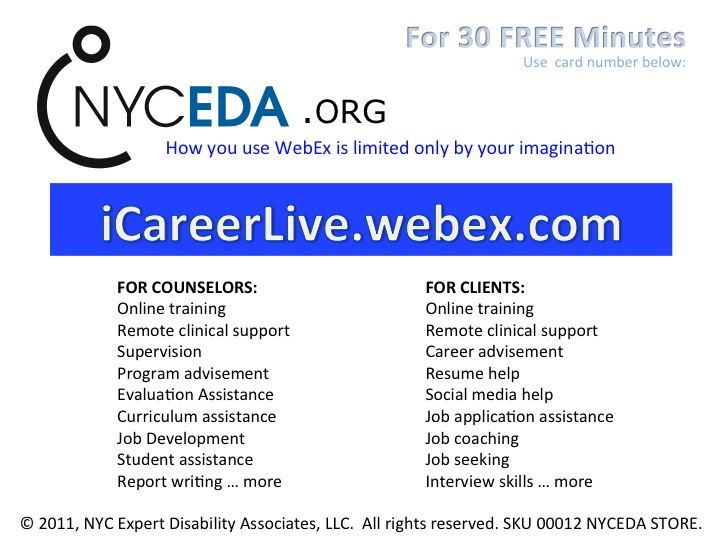 See NYCEDA Store for more information.
Content copyright 2011. NYC Expert Disability Associates, LLC. All rights reserved.