ANNOUNCEMENTS
If you would like to receive notification on upcoming trainings and events please email: [email protected] and indicate "join mailing list" in the subject line.
EVENTS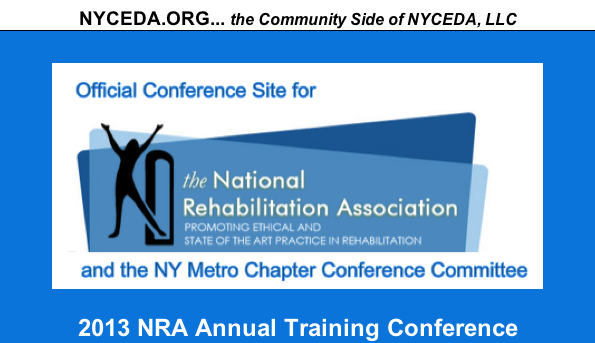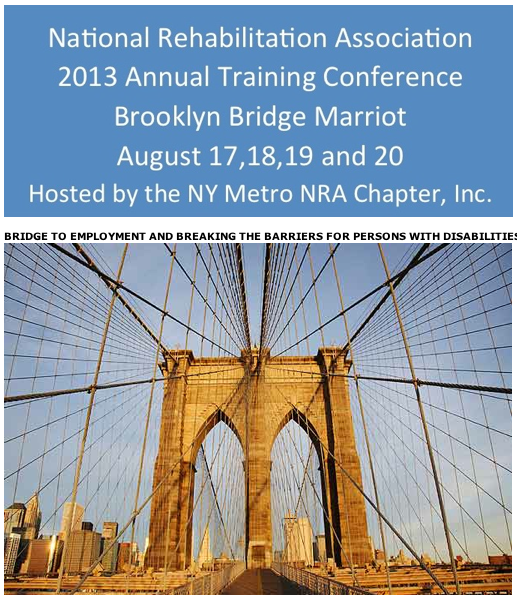 NYCEDA is a "Soldier Sponsor" at the Be A Hero-Hire A Hero/VIP Careers Veterans Hiring Initiatives Expo – on Monday, November 5th at the New Yorker Hotel.   Visit our table!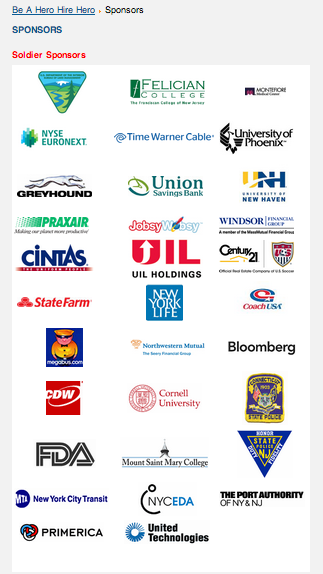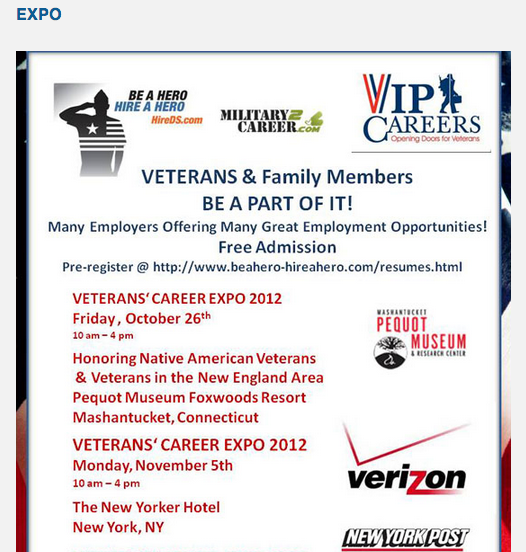 DMD Invitation 2012 PDF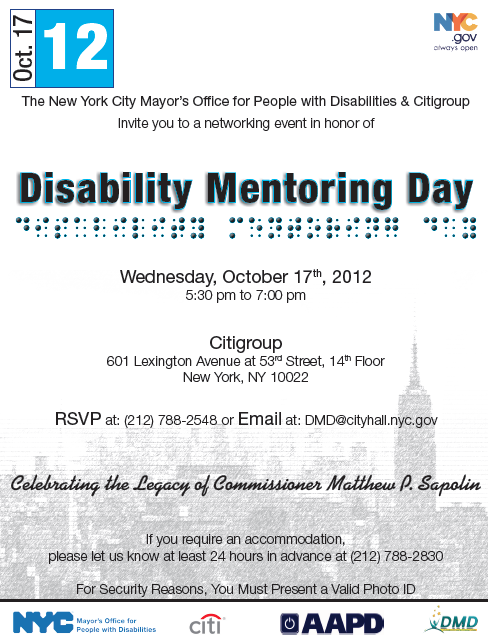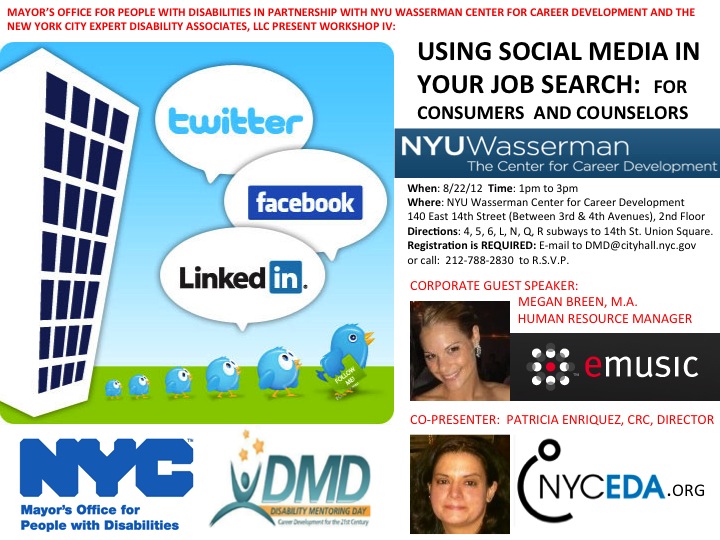 Valerie Lyons Presents:
A Dynamic 5-Session Dream Building Program
If you…
-Have professional goals that you want to pursue but don't know where to begin -Are seeking support to assist you with developing a plan of action -Are interested in learning practical strategies designed to help you accomplish your goals This program is for you! Dates: June 5th, June 12th, June 19th, June 26th and July 10th Time: 6:00 PM – 7:30 PM Where: The Resource Recovery And Life Academy, 500 8TH Avenue, (between 35th and 36th Street), Suite 907, NYC Program Fee For All 5 Sessions: $150 This is designed to be a small group experience; therefore, seats are limited to twelve participants.  If you are interested in registering for this program, please send an e-mail to me at [email protected].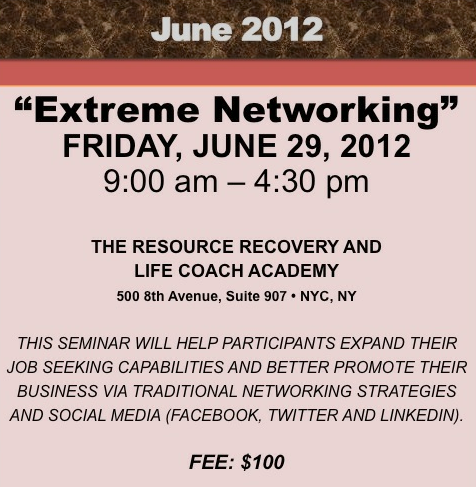 About the Facilitator: Valerie is the founder of Valerie J. Lyons Enterprises, a motivational speaking, professional training, and life values coaching practice. Ms. Lyons has worked as a Rehabilitation Professional in the substance use disorder treatment field for over 20 years.  For much of her career she has assisted people with building their dreams. Valerie is an established group facilitator and passionately believes in the possibility of living your purposes.   CLICK HERE: FOR EXTREME NETWORKING FLYER AND REGISTRATION FORM.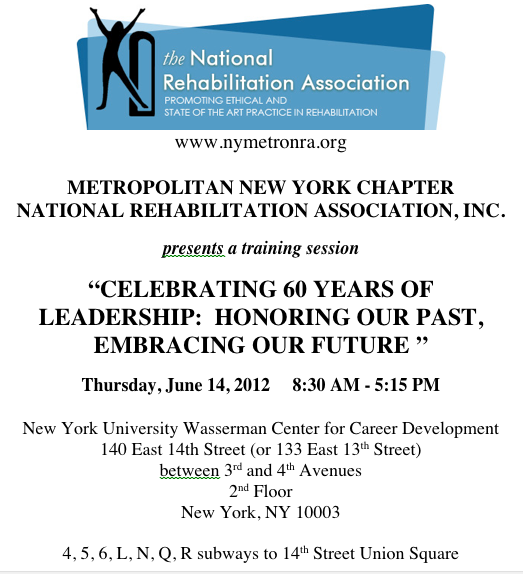 NYCEDA will have a table at the event below (on April 23 at the Hilton Gateway, Newark, NJ) for the Veteran Career Expo, so that we can  share information on Operation V.E.E.B.O.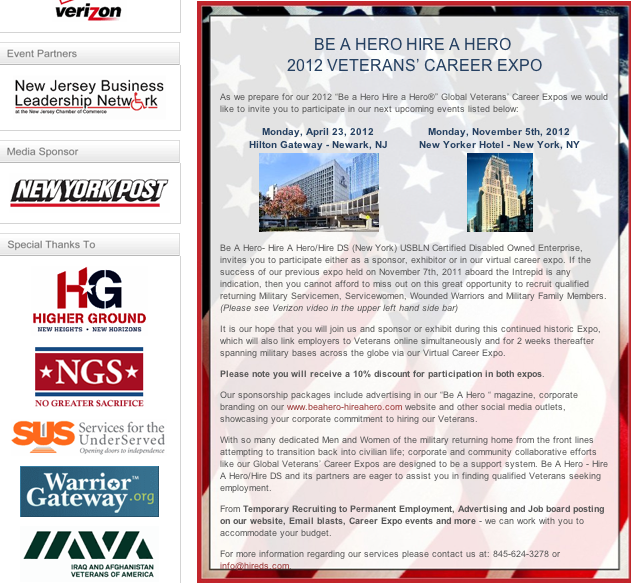 Click here for the Val J. Lyons Enterprises Flyer & Registration Form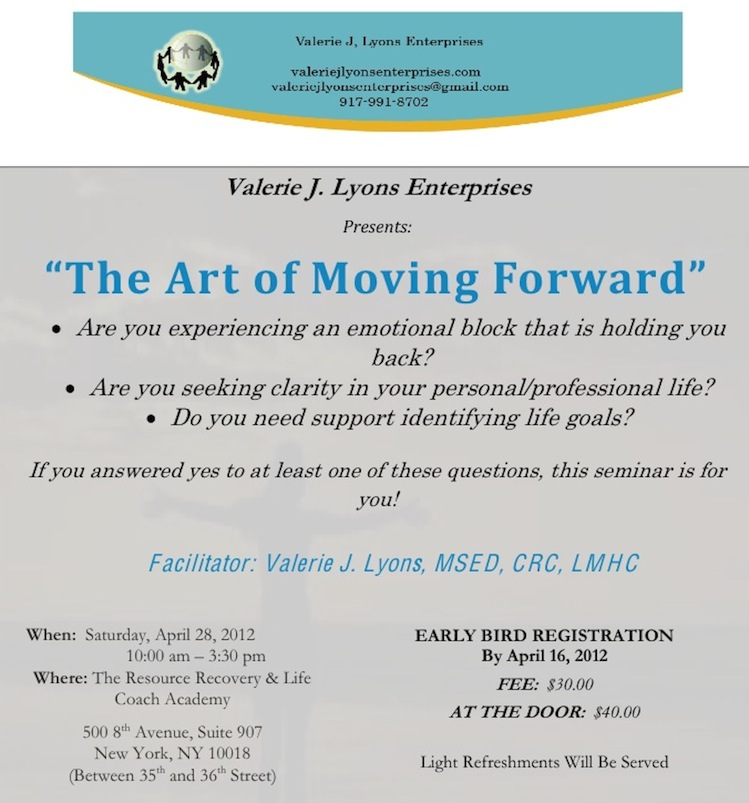 The exhibition, WHACK'ed … and then everything was different (below), opens March 15th  and will be on view until April 15, 2012, at the MSB Gallery at NYU Langone Medical Center, 550 First Avenue in NYC. The opening reception on March 15 from 6:00pm-8:00pm is sponsored by the Rusk Institute of Rehabilitation Medicine.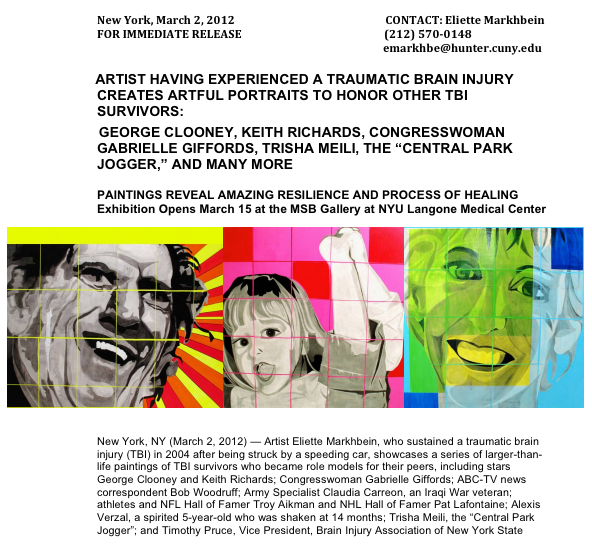 For full 3 page pdf, regarding the exhibition "WHACK'ed and then everything was different"click here: markhbein_pressrelease.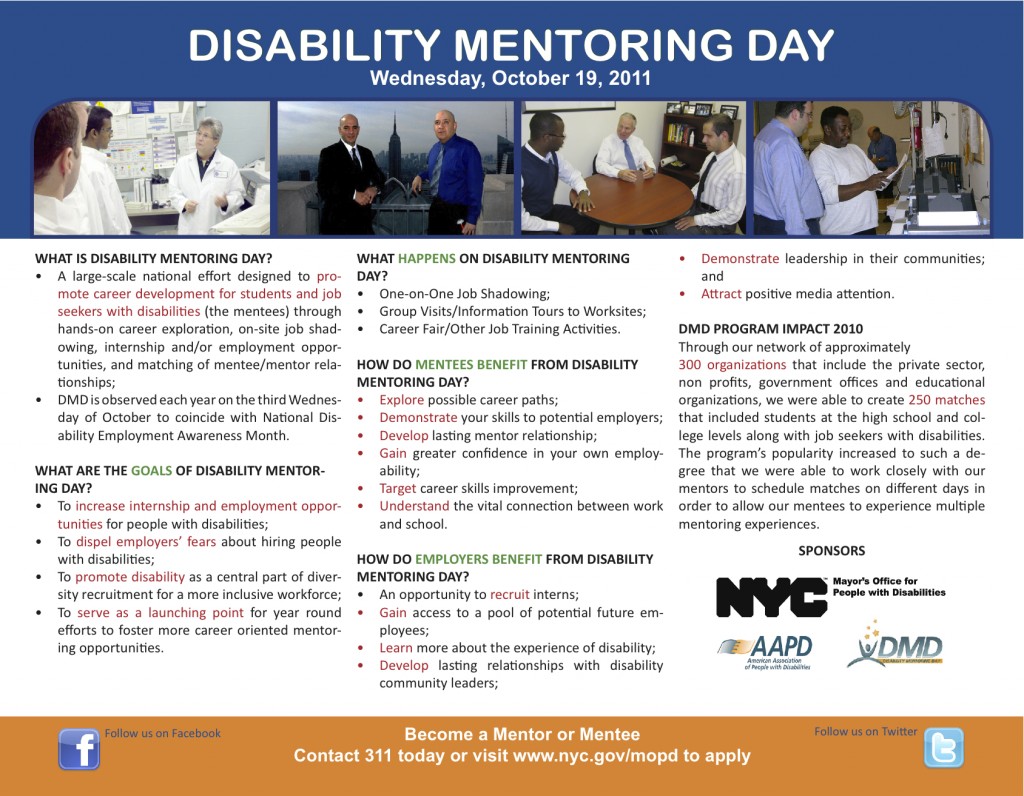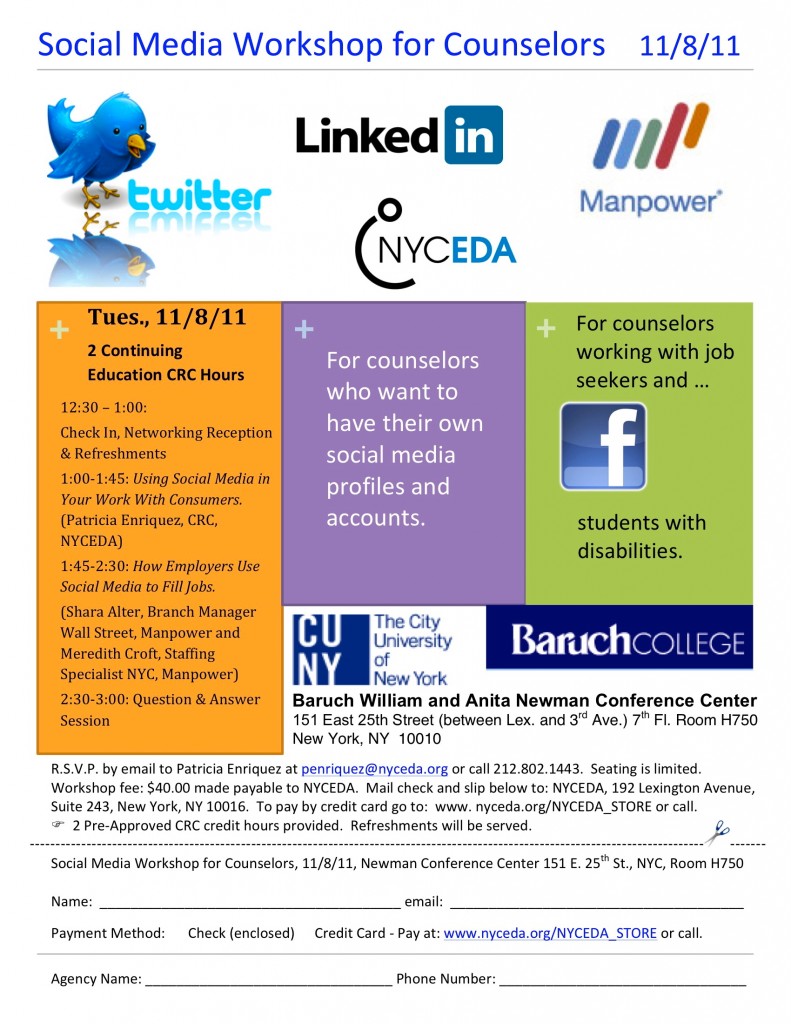 http://nationalrehab.org
METROPOLITAN NEW YORK CHAPTER
NATIONAL REHABILITATION ASSOCIATION, INC.
presents a training session
"QUALITY REHABILITATION COUNSELING:  LICENSURE,
ETHICS, AND ADVOCACY"
Wednesday, January 18, 2012
8:30 AM – 4:00 PM
New York University Wasserman Center for Career Development
140 East 14th Street 2ndFloor, New York, NY 10003
4, 5, 6, L, N, Q, R subways to 14th Street Union Square
8:30            Registration, refreshments
9:00            Welcome, Anthony Spinelli, MS, CRC
President-elect, Metropolitan New York Chapter, National Rehabilitation Association, Inc.
9:15            Advocating for Women with Disabilities, Judith Goldberg, MS, NCC, Director, Initiative for Women with Disabilities, Elly and Steven Hammerman Health and Wellness Center, NYU Hospital for Joint Diseases
10:15          Break
10:30         Licensure Update, Patricia Livingston, PhD, CRC, Coordinator, New York StateRehabilitation Counseling LicensureCommittee
10:45          Advocacy Efforts in Rehabilitation Counseling, Michele Buoninfante-Blainey, MA, CRC, Vocational Rehabilitation Counselor, Beth Israel Medical Center, Methadone Maintenance Treatment Center
11:30          Benefits of Social Media in the Job Search, Christopher Kempski, MS, LMHC, CRC, CEAS, CPT, CES, Vocational Rehabilitation Therapist/Ergonomist,New Jersey Division of Vocational Rehabilitation Services and Past President, Metropolitan NY Chapter, NRA, Inc. and President, Northeast Rehabilitation Association
12:15       Lunch on your own
1:30        Mental Health Parity in New York State (Timothy's Law), Wendy Brennan, MS, Executive Director, National Alliance for the Mentally Ill, NYC Chapter
2:15          Break
2:30          Resolving Ethical Issues, Arnold Wolf, PhD, Professor and Coordinator, Rehabilitation Counseling Program, Hunter College, Jessica Battisti, Graduate Student, Rehabilitation Counseling Program, Hunter College and Vocational Counselor, CREATE, Inc.
4:00         Submit evaluations, CRC credits
4:15          Annual business meeting (one additional CRC hour)
5.0 CRC hours have been requested.
www.nymetronra.org
STANDARD REGISTRATION (postmarked after 1/6/12 and at door):
$55   NRA or AVRASA MEMBER             $30   STUDENT *
$55   GOVERNMENT EMPLOYEE           $75   ALL OTHERS
* photocopy/original of college ID required
MAKE CHECK PAYABLE TO: Metro NY Chapter-National Rehabilitation Assoc.
SEND TO:
Paula Lee, NYU Wasserman Career Center
140 East 14th St, 2nd Floor, New York, NY 10003
Questions?  Please contact: Anthony Spinelli, 646-428-3789,

[email protected]
Paula Lee, 212-998-4749,

[email protected]

, fax 212-995-3827