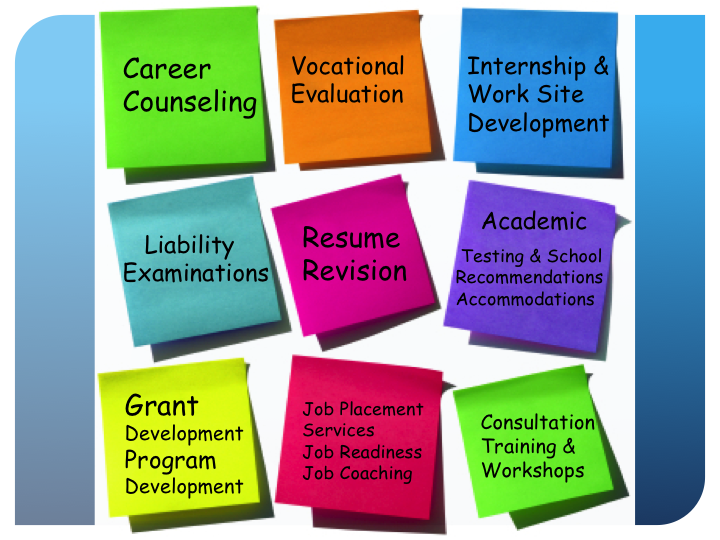 Diagnostic vocational evaluation – Our Diagnostic Vocational Evaluation (DVE) program helps people with mental, emotional, social or physical barriers choose appropriate job goals. Counselors work with the individuals to assess employment interests, values, skills, limitations and academic abilities as well as work readiness. Aptitude testing and computer testing (word processing, repair and programming).
Academic evaluation – academic testing (reading comprehension, sentence comprehension, math computation, math problem solving, spelling, word reading, writing grade levels), achievement testing for GED (Generalized Equivalency Diploma), high school, trade school, technical school, certificate programs and college.
Computer evaluation – Prove It! Computer testing in MS Office 2007 Word, Excel, PowerPoint, Access and Outlook. Windows 2000 and WPM. Office 2007 is the industry standard by recruiters and employers because corporations are security cleared for use of office 2007 on their server at this time.
Liability examinations – vocational intake interviews, medical documentation review and diagnostic vocational evaluations for the legal profession. Job placement and employment recommendations. Job analysis and occupational determinations. Contact Patricia Enriquez (at [email protected]) for CV and fee schedule.
Independent Medical Evaluation (IME) Intake/Interview – (IME) Evaluation & Testing and Report, Medical Documentation Review, Deposition, Court Appearance, Trial Preparation, Phone Consultation
Worksite evaluation – evaluation survey form created for vocational counselors working with disabled job seekers on training sites, internship sites and volunteer sites.
Job analysis – breaking down a job by every task. Entails the use of the Dictionary of Occupational Titles (DOT) codes and observing the individual at work. Specific criteria and ratings are used during the observation.
Job market survey – researching job market trends using US DOL statistics, trends and projections. Using local economic employment and business survey results posted on city/town website to research job trends and job opening locations. Calling and interview employers to research job trend and job openings in different industries.
Career Assessment – using interest inventories, informational employer interviews, trends in the job market and educational requirements: state licensing, program accreditation, local labor market forecasts.
Transferable Skills Analysis – for career changers and "military to civilian" skills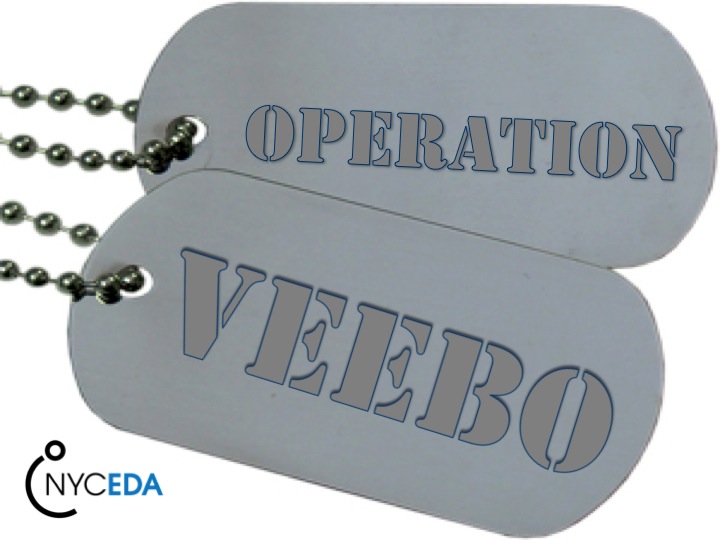 VETERAN EMPLOYMENT EFFECTS BASED OPERATION(VEEBO)
VEEBO SERVICES FOR VETERAN JOB SEEKERS see NYCEDA Store for more info.
Initial Assessment [VOCATIONAL EVALUATION] for Veterans
WRAT IV (academic), BETA III (non-verbal IQ), Career Assessment Inventory, Employment Aptitude and Computer Skills Tests
Beck Depression Index II, Addiction Severity Screen, PTSD Screen and TBI Screen
Assessment of learning abilities, worker traits and transferable skills
Case Management [Veterans Levels I, II and III]
Manage "Guidelines for the Vocational Rehabilitation Participant" and "Independent Living" plan for veterans; provide counseling and support services
Reporting and goal planning, services assistance: medical referrals, academic counseling (including review of grades and progress), Authorization and Subsistence Allowance, Supplies and Equipment, Adjustment and job readiness training
Educational and Vocational Counseling for Veterans
Vocational and educational exploration
Pre-vocational counseling, career exploration
Labor market survey, vocational testing and assessment
Benefits of service, transition to civilian services and counseling
Education program and training program referrals
Employment Services [Veterans Levels I, II, III]
Job Readiness Assessment, Job Placement Plan
Job Seeking Skills, Interview Skills, Resume Revision, Job Application Assistance
Disability Disclosure, ADA Accommodations, Labor Market Research
Assistance with employment barriers (transportation, housing, childcare)
Job and Internship Development, Job Referral Services
Employer and Business Partnerships/Advisory Board Services for Veterans
Job Placement and Retention Services (Post Placement Services)
Individualized Employment Assistant Plans (IEAP)
Individualized Written Rehabilitation Plans (IWRP)
Information and assistance with benefits and tax breaks for hiring veterans: Tax Incentives for Employers
Job placement resources city, state and federal.
Job placement assistance with private employers and small business.
Networking and building relationships with employers through business advisory meetings set up by VEEBO.
Job seeking skills groups in person or using www.webex.iCareerLive.com secure Voip internet service.
Job club meetings using in person or using www.webex.iCareerLive.com Voip internet service.
Internship set up services.
Volunteer resources and set up.
Resume and cover letter services. Includes transferable skills assistance "military to civilian".
Internet "on-line" job application assistance.
Social media set up and the job search assistance (i.e. LinkedIn, Facebook and Twitter).
Career services for veterans (includes career interest inventories).
Vocational evaluation and assessments for both school and work.
Computer testing and office skills assessments.
Job interview skills and preparation.
ADA job accommodation advisement. Disability disclosure assistance.
How to ask for accommodations from an employer successfully and without compromising confidentiality.
When to ask for accommodations from an employer – timing is everything
Disability discloser do's and don'ts.
List of reasonable accommodations – commonly allowed by employers in the workplace.
Academic accommodations listed by type and for which disabilities they pertain to.
School accommodations – how to arrange them.
55b&c (state) and Schedule "A" (federal) hiring status client set up services
Job skills sets for occupational determinations.
Assistive technology assistance and planning
Worksite modifications assistance and consultation
Job and labor market survey help.
Using key words in your job search assistance.
Diversity initiatives for student affairs, student career services, student activities and staff development.
Classroom and student housing technology set up for disabled students. Set up assistance and technical consultation.
Parent assistance, support and advocacy.
Assistance with local city, state and federal resources.
NYC Access-A-Ride alternate accessible transit application assistance.
Reasonable academic accommodations – medical documentation review, liability consultation assistance, Department of Justice (DOJ) and Equal Employment Opportunity Commission (EEOC) inquiries.
Section 504 campus committee assistance, accessibility initiatives, program manual development, office policy and procedures for alternate testing accommodations.
Assistive technology set up and user license management: Dragon Naturally Speaking, JAWS, Zoom text, CCTV, Enlarge, Kurzweil, MacSpeech, etc…
Special housing accommodations and requests.
Disability disclosure (FERPA – Family Educational Rights and Privacy Act and HIPAA – Health Insurance Portability and Accountability Act of 1996).
Procedures for law school exams for disabled students (secure laptop provisions).
Learning specialist assistance – a paraprofessional (bachelor's level) or masters level professional assisting a student with a disability in organizing school work load, developing study styles/learning strategies, meeting deadlines, organizing work (using a calendar and planner) and preparing for exams. Student meet with a professional on a regular basis to monitor progress and to obtain assistance in meeting deadlines through planning.
Cognitive retraining – memory and organizational training through paper and computer exercises. Help with executive skills and learning strategies.
Staff and faculty training and workshop presentations.
American with Disabilities Act (ADA) and Section 508 (access to technology) assistance.
ADA titles I-IV training for faculty and staff.
See NYCEDA Store for:
College Disability Coordinators: Social Media and Safe Practices Training. $200 per hour. Group or individual training.
College Disability Coordinators: ADA accommodations, disability disclosure and diversity training. $200 per hour. Group or individual training.
Counselor one to one social media training: $100 per hour.
Counselor clinical supervision, report writing and case management training: $100 per hour.
Contact Patricia Enriquez, CRC, NYCEDA Director for more information at 212-802-1443 or email: [email protected].
Diversity Initiatives
Anywhere diversity programs exist for minorities, people of color, persons identifying as LBGT, martial status, religion, country of origin, etc… I believe individuals with disabilities should be included in any diversity initiatives. Often they are but sometimes they are not. Specifically my focus will be on diversity in the workplace. I believe that an employer that hires a disabled job applicant is diversifying their workforce.
Join our business network
For counselors working in job placement services wishing to link to my business network (employers with diversity missions I am partnering with).
For those providers that want assistance in forming a business partnership (employer account) – I will offer a fee for service option called "job development assistance". See NYCEDA Store for further details or contact: Patricia Enriquez, CRC, Director NYCEDA at 212-802-1443.
Hiring the disabled
New –
Dispeling unfounded fears.
Statistics showing benefits of hiring the disabled.
ADA do's and don'ts
Info on diversity initiatives
Employer Services
Employee workplace accommodations
Accommodations as described in the Americans with Disabilities Act of 1991
List of reasonable accommodations
How to avoid approving the wrong accommodations thus avoiding liability
Employer, provider and consumer consultation sessions
Staff workshops and trainings
Disability sensitivity training
Dispelling myths over hiring the disabled
Allowing accommodations in the workplace
Managing different learning styles in the workplace
Business advisory committee (BAC):
Business Advisory Committee is comprised of hiring managers, human resource representatives and recruiters from various industries. There is an option for employers to join the BAC and an option for counselors/providers to request NYCEDA services to establish a BAC for their agency.
Assistive technology
Worksite modifications
What we do:
one to one vocational services assistance
vocational rehabilitation therapy
vocational treatment
vocational evaluation
case management services
educational counseling
job placement services
job training
internship services
career assistance
school assistance
Who to refer:
Patients in need of assistance in applying for school.
Patients in need of assistance applying to ACCES-VR NYS vocational rehabilitation office or DVR New Jersey Vocational Rehabilitation, or any of these offices in all 50 states.
Disabled patients who need help navigating school and college accommodations.
Disabled patients who need help with career exploration.
How to refer patients:
Click below for a PDF of the NYCEDA Health Provider Referral Form:
Please complete the referral form and fax to NYCEDA at 212-802-1401 or call 212-802-1443 for assistance.
Resources:
Adult Career and Continuing Education Services-Vocational Rehabilitation (ACCES-VR) http://www.acces.nysed.gov/vr/adult_vocational_rehabilitation_services/about.htm
Goodtemps.org (temp agency for the disabled) http://www.goodtemps.org/
Workforce 1 http://www.nyc.gov/html/sbs/wf1/html/register/register.shtml
Civil Service jobs (city and state) and federal http://www.usajobs.gov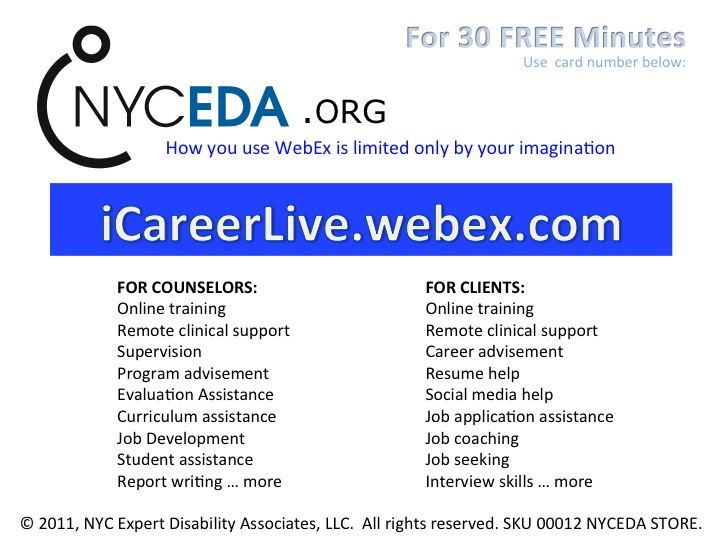 Job placement resources
Placement services program curriculum
Business advisory committee assistance – Business Advisory Committee (BAC) is comprised of hiring managers, human resource representatives and recruiters from various industries. There is an option for employers to join the BAC and an option for counselors/providers to request my services to establish a BAC for their agency.
Job seeking skills groups training and curriculum
Job club training and curriculum
Internship set up services
Volunteer resources
Client resume and cover letter services
Internet job applications training and assistance
Social media and the job search assistance
Career services for consumers
Vocational evaluation
Computer testing
Job interview skills and prep training
ADA job accommodations training
School accommodations training
55b&c and Schedule A hiring status training
Job skills sets "how to"
Networking assistance
Assistive technology training
Worksite modifications
Job market survey:
How to do a job market survey – training
Using key words in the job search training
Workshops and trainings for providers/counselors:
Social media workshop for counselors
Social media workshop for consumers
Job placement of persons with mental health disabilities workshop
Using the computer for diagnostic vocational evaluations.
Call 212-802-1443 or email: [email protected] (Patricia Enriquez, CRC at NYCEDA, LLC) for fee schedule. Flat rates available for consulting and curriculum services. See NYCEDA Store for more information.
Job training resources
Employment resources
Academic resources
Rehabilitation resources
Evaluation and academic testing
Internship and career services
Academic accommodations
Learning specialist services
Assistive technology
Classroom accommodations
Working with ACCES-VR
Content copyright 2011. NYC Expert Disability Associates, LLC. All rights reserved.