This volume contains:
NYS CRC Licensure Update
NYS CRC Licensure Action Info
NYS CRC Lobby Day Info
CRC Immediate Response Team Info
CRC +1 Database Info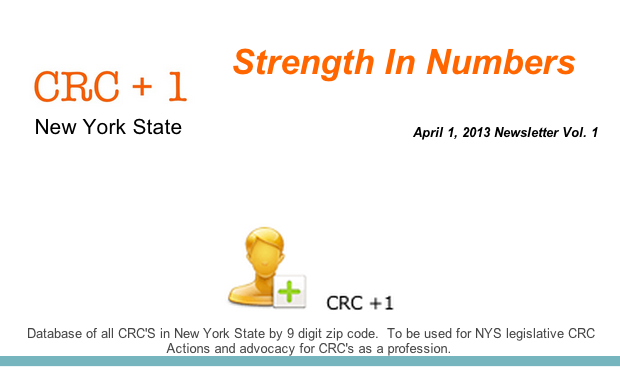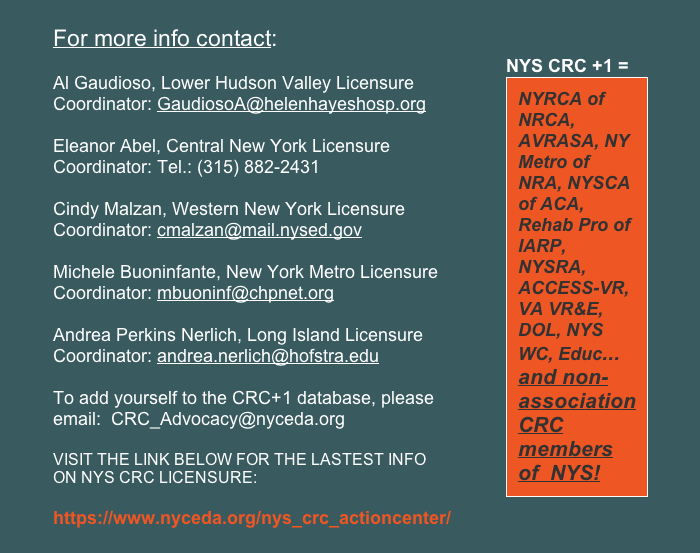 NYS CRC Licensure Update:
As many of you know our NYS CRC Licensure bill passed the Senate last year and was delayed in the Assembly Higher Education Committee by Deborah Click committee chair – effectively terminating the bill.   Assemblywoman Glick from District 66 has vetoed our bill 7 times with the exception of last year where she effectively circumvented the new committee rule requiring committee chairs to recuse themselves from voting if there is a conflict of interest.
There was a meeting at Assemblyman Sheldon Silver's Manhattan office in early February to plan and look into the issues delaying CRC Licensure in NYS.  A second follow up meeting is planned.
The underlaying issue is getting the support of the head of the higher Education committee, Deborah Glick.
To those of you in the NYC area… Assemblywoman Deborah Glick's local office is:
853 Broadway
Suite 1518
New York, NY 10003
212-674-5153
Our 2013 NYS CRC bill numbers are S3069A (in the Senate) and A00963 (in the Assembly).
See what social workers are saying about our licensure efforts here...(page 4).

CRC Lobby Day Info:
ALBANY lobbying is a must because it makes us obvious to all legislators and shows commitment is strong.  BUT local lobbying is also important because you will be given more time to meet with someone and can educate and clarify your objectives.
Albany Lobby day is planned for April 30th – details will be available through Eleanor Able, Central NY Licensure Coordinator; telephone (315) 882-2431, email: [email protected]
Legislators will be back in Albany on 4/29 and accepting visitors for the day in their offices all day Tuesday 4/30, a major Albany legislative day.  Eleanor Abel will have the legislative packet and lobby day schedule.
There is a good chance we wil get to see many legislators and even the governor and I will have posters and signs and a VETERAN poster for display. Our themes will be VETERANS DESERVE THE BEST OF CARE and PEOPLE WITH DISABILITIES DESERVE THE BEST OF CARE.
NYS CRC Licensure Action Info
It is essential that as many CRC's as possible write electronically or by snail mail to their legislators to help these bills to pass.  Pressed for time?  Access our simple to use free electronic on-line letter writing campaign for CRC licensure here… 

Letters from consumers: Please remember to ask you consumers and their families for letters of support and to forward them to your legislators.  You can also scan and send the letters to [email protected] or fax them to attention NYCEDA.org fax# 212-802-1401.
Letters explaining why licensure is needed below: OPEN LETTER TO Legislators
REQUESTING YOUR SUPPORT FOR LICENSURE FOR 00963 REHABILITATION COUNSELORS IN NY STATE!!
Bill number A00963 and  S3069A in pursuit of Licensure for Rehabilitation Counselors in NY State
Please advise input on the following content and feel free to cut and paste if you use this or any portion for contacting legislators.
Now that budget issues are being resolved attention needs to turn once again to letter writing to support the Rehabilitation Counselor licensure efforts in NY.
Dear Legislator/Governor/___:  I am writing to thank you for your efforts to encourage and support job availability and services to NY citizens. I am very grateful that you are in support of people with disabilities, who can be rehabilitated and receive services that maximizes their potential to continue to be contributing citizens. You are helping us to honor the important work of retaining, recruiting and educating the rehabilitation professionals who perform the important duty of assuring access to services, advocating, service coordinating, counseling and referring our servicemen, children, adults and all NY citizens who may have an acquired or birth related disability. This includes VETERANS and persons with brain injury, physical or mental disabilities (of any age from infancy to adulthood and beyond) which interferes with the ability to function, however can in many cases with rehabilitation services improve lives dramatically. Bill A00963 and S3069 seeks legislation to provide for licensure for New York State Rehabilitation Counselors.
Please advise if you would be able to make time in your busy schedule on  __________________ to meet with a small group (three to four) rehabilitation counselors to thank you for supporting our bill and answer any questions you may have about our profession and how we seek legislative protection for rehabilitation counselors and the citizens who are living with disabilities. Our professional goal is to continue to provide access to services and advocate for NY citizens.
Yours for a stronger NY.
Sincerely,
[INSERT YOUR NAME, HOME ADDRESS AND CONTACT INFORMATION]
CRC Immediate Response Team Info
Our CRC Licensure Leaders in NYS
A number of CRC's in New York State have expressed interest and have joined up as "CRC Immediate Response Team" members for our NYS CRC Licensure ACTION initiatives. CRC Immediate Response Team members connect with and have a network of CRC's available to assist with actions.  Sign up today by emailing [email protected]
CRC +1 Database Info
Legislative Advocacy by Home District
One of our legislative advocacy initiatives, that we believe will strongly assist with NYS CRC Licensure – is uniting CRC's in NYS – regardless of professional association membership into one email database by their 7 digit home residency zip code.  The CRC + 1 database and email listserve will help us to better advocate with NYS legislators (like Assemblywoman Deborah Glick, District 66) regarding issues concerning our professional future. Join the database here …