The National Rehabilitation Association is proud to present the 2013 NRA Training Conference scheduled August 17-20, 2013.
.
8/1/13 – Update on Hotel Space Availability
.
June 25th was the closing date for making reservations at the Brooklyn Marriott at the conference rate.  The only rooms that may still be available are at the market rate starting at $299 up to $379 for the conference days.
Marriott Hotel Conference Location and Contact Info:

View Google Map
http://www.marriott.com/hotels/travel/nycbk-new-york-marriott-at-the-brooklyn-bridge/
OTHER HOTEL OPTIONS:
There are three ADA-compliant hotels in the Brooklyn Downtown area that have had more reasonable rates, but space is very limited.  Time is of the essence to book.  The following three are within 5 blocks:
Aloft New York Brooklyn, 216 Duffield Street, 718-256-3833
Sheraton Brooklyn, 228 Duffield Street, 718-855-1900
(go on line and use a special Brooklyn Residents Rate Acct Code 231792 to save about 10%+)
Holiday Indigo, 229 Duffield Street, 800-741-5072
Much further away is:
(13 blocks away) Holiday Inn Express Downtown Brooklyn, 279 Butler Street, 888-465-4329
By subway you can get from hotels in mid-Manhattan to Downtown Brooklyn in about 20 minutes.

 Connects People with Accessible Places (nightlife, entertainment, spas, arts, shopping, etc…)
DRIVING DIRECTIONS
AIRPORT INFO
General transportation information:  Port Authority of New York – New Jersey —  http://www.panynj.gov/
JFK airport (Queens, NY) – estimated ground transportation cost to downtown Brooklyn, NY $59 – $64
Other than taxi, there is the JFK Airtrain which links to the Long Island Railroad where you can get a train to downtown Brooklyn (Atlantic Terminal) and the hotel is three quick subway stops from there (Boro Hall).*
http://www.panynj.gov/airports/jfk-airtrain.html
LaGuardia airport (Queens, NY) – estimated ground transportation cost $28-$33
You can also use the MTA buses and the subway to travel from LaGuardia airport to the Marriott BB.
Newark airport (Newark, NJ) – estimated ground transportation cost $100
There is an Air Link shuttle that will bring you to Newark Penn Station where you will be able to take the PATH train to the World Trade Center station and transfer to the MTA subway going into Brooklyn where you will get off at the Boro Hall station.
All projected taxi rates are for a single occupancy.  The taxi rules are included in the Port Authority website above.
PATH TRAIN, LIRR, METRO NORTH INFO
More info coming soon…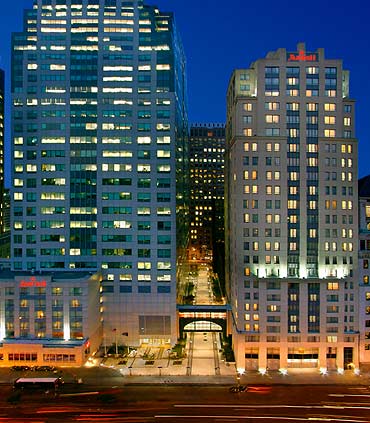 More hotel photos (includes rooftop views)…

Disability Mentoring Day 10/16/2013